From complete renovations to small-scale projects
WE CREATE WITH CARE AND PROFESSIONALITY.
From complete renovations to small-scale projects: RL-ID can tackle and implement the development step by step. We offer you a customized package; you can choose yourself which elements of the interior plan are important to you and you because RL-ID to take care of and / or execute.
METHOD
Personal plan
We always start with an introductory meeting in your own living or working environment. Robbert will then meet you personally. He will view the location, discuss your housing requirements in detail and give his first vision and ideas. It is also discussed which pieces of furniture remain in the interior and what can possibly be replaced. A search for Robbert can be part of this.
You will then receive a written basic plan/report with his advice regarding the layout of the room (s), the use of materials and colors, the lighting and window decorations.
This first phase is very important; after all, your wishes and ideas are the starting point of a new interior plan! This introductory meeting is elaborated for you in a written basic plan on paper.
Total plan
This plan can be further developed into a total plan so that you have the opportunity to enter a next phase with RL-ID in which the new design and implementation of the interior plan is worked out step by step. In this, together with you, the entire plan is worked out in detail. The fabrics are presented, the luminaires selected and the furniture and wall colors selected.
It is also possible to pay a joint visit to the manufacturer of various brands of, for example, sofas to find the right fabric, with the right foot in the right color, height and cushion thickness. Or select the most suitable wood grain and color of a new floor at the workplace.
Robbert can use his extensive network and knowledge in the art and antiques trade to find an original art and / or antique object / piece of furniture for you.
Performance
The implementation phase is also included as part of the total package. This means that a construction team works together with the various interior specialists, contractor (s) and professionals such as painters, plasterers and parquet installers. RL-ID can provide full advice coordination for this.
Our experience shows that the best results are achieved through this method and collaboration. Your wishes, the RL-ID design plan on the one hand, and the possibility that a contractor, for example, has on the other hand, will be better coordinated.
Naturally, if desired, RL-ID can implement the total plan in phases.
Schedule an introductory interview. Call us: +31 (0) 6 28634813
Call us at any time from 10 a.m. – 9 p.m.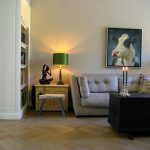 C. Walters, Voorschoten
Expert in discussing design styles from across borders and different continents.
"After we moved from the US to Voorschoten, it was difficult for us to find our way how to decorate our house. Robbert has really helped us make the right choices, select beautiful and high-quality products and materials and build an original and personal interior. We appreciatedRead More