WE MAKE
Modern lighting solutions.
A well-thought out lighting plan is functional, pleasant to use and contributes greatly to the ambiance of the room (s). A lighting plan is a comprehensive plan with advice that is jointly coordinated on the basis of your wishes and preferences, the function and the use of the room (s).
LED is an abbreviation for Light Emitting Diode and is an electronic component, also called semiconductor. The most important characteristics of LED lighting are the low power consumption, the low heat generation (they don't get that hot) and the durability.
In addition to LED bulbs, there are also LED strips with which beautiful indirect lighting effects can be created. The first generation of LED lamps gave cold, white light. But this has developed considerably over the years.
You can now choose from extra warm white, warm white, cold white, RGB and filament light colors. The right LED light color is available for every room and situation.
Please contact us for advice, we are happy to help.
Ceiling lighting is an important part when it comes to the atmosphere in the house. An interior is not complete without carefully chosen lighting. A number of smart and well-chosen lamps make the difference. It is advisable to think carefully about this before you start looking for lamps; every space has its own function.
When choosing ceiling lighting you have a choice of various styles of lamps with different atmospheric attributes. Every room gets its own light image. You can illuminate a living room or office with spotlights or with ceiling lamps that provide general lighting. By using a dimmer you can play with light; from beautiful warm light to brighter light to work.
The choice of the right lighting and the type of lamps is essential for the end result. The type of lamp you choose for the ceiling lighting must match the space that you want to illuminate. Ceiling lighting for the living room often has to meet other requirements than those of the bathroom or office. Let us advise you, we are happy to help you to make the right choices.
Lighting is not only functional, but must also have a decorative function in an interior. In addition to the functional, decorative lighting can also bring a beautifull admosphere in to your interior and sometimes just finish those final details.
Decorative lighting has the best of both. From chandeliers, to timeless or contemporary hanging or ceiling lamps, floor and table lamps in all styles and shapes. Decorative lighting is available for every budget. Do you want to make the most of your decorative lighting?
Then make an appointment with us for a personal and reliable lighting advice.
WE PLAN, YOU RELAX
Functional, stylish and practical office spaces.
Personal assistant in the interior area
From idea to implementation
Excellence of Decoration
We only choose and combine what meets your needs.
The lighting advice is developed taking into account the technical possibilities of the room (s) and your budget.
As part of the tailor-made lighting plan, there is the option to test the various proposed luminaires in your own living and / or working space (s). In this way a plan starts to live on paper. The rate for a lighting plan is € 295,- for two hours of advice at your home. This includes a detailed basic lighting plan.
Please feel free to take no obligation contact us about our options and your specific questions. We like to help you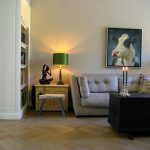 C. Walters, Voorschoten
Expert in discussing design styles from across borders and different continents.
"After we moved from the US to Voorschoten, it was difficult for us to find our way how to decorate our house. Robbert has really helped us make the right choices, select beautiful and high-quality products and materials and build an original and personal interior. We appreciatedRead More